Jan 18 2012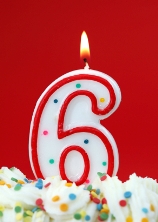 This month marks the 6th birthday of Sunshine Rewards, and we want to celebrate it with our members! Between now and January 23, we have some great stuff going on!
On a personal level, I cannot thank enough the merchants, OPMs, networks, and MEMBERS who have helped us stay in business and thriving over these last 6 years. Sunshine Rewards is more than just a job for me. It's a way of life for my family.
Now on to the fun!
Crazy Credits: Visit the forum to see how completing offers and taking surveys can earn you DOUBLE credits in this member-favorite contest.
Sunshine Rewards Trivia: Think you know Sunshine Rewards? We will be posting trivia questions across the forum, our Facebook page, and Twitter. Be the first to answer correctly and win prizes!
Hidden Birthday Cake: Find the birthday cake hidden on Sunshine Rewards and win a party favor. (starting soon)
Increase Cash Back: We're offering great cash back on some of your favorite merchants. See the Sunshine Rewards homepage for a current listing.
New Member/Referral Contest: Every new person who joins Sunshine Rewards between January 18th and 23th will be entered to win a $25 Amazon Gift Certificate. Even better--if you are the member listed as their referral and they win, you win a $25 Amazon Gift Certificate as well!
Share Your Memories: We are inviting all Sunshine Rewards members to share their favorite memories on our Facebook wall. They can be sweet, sentimental, or even sassy. We want to know what you remember most about the past 6 years.
Stay tuned to the forum, our Facebook, and Twitter for more information!
5 Responses to "Sunshine Rewards 6th Birthday Celebration"