Oct 01 2013
Halloween has always been one of our favorite holidays at Sunshine Rewards, and this year we are really doing it up right! In addition to some of the Halloween traditions you have come to love with us (like finding the hidden Trick or Treat bag), we are adding some new ones. We have lots of prizes to give away in addition to increased cash back and exclusive coupons from favorite merchants. Read on for a sneak peek of some of the things we have in store for you this month!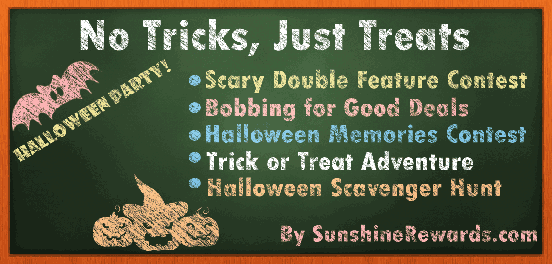 Costume Express Scavenger Hunt
Visit Costume Express and pick out your dream costume. We don't care if it's scary, funny, crazy, or common. From October 2-8 we'll be asking for your favorites on Facebook. One lucky person will win a $50 Costume Express Gift Card.
BuyCostumes.com Halloween Memories Contest
Halloween is a time for memory making, and we want to hear yours. From October 9-15 we will be running a contest in our blog where you can win a $50 BuyCostumes.com gift card. Enter once with a Halloween memory and earn extra entries for spreading the word about the contest via Twitter, Pinterest, and Facebook.
Bobbing for Good Deals
Make a purchase from any merchant listed in our Halloween Shopping Category between October 1 and 31 and you will automatically be entered into this game. Take advantage of our Halloween coupons, discounts, and even increased cash back to save big at select merchants when you purchase Halloween costumes, decorations, and gifts. We'll randomly pick one winner to receive their choice of a $25 Amazon or $25 Disney gift certificate.

Spirit Halloween Scary Double Feature
Do you love a good scary movie? So do we! How about a song that always reminds you of the season? From October 16-23 we'll be asking for your favorites on our Facebook page. 2 winners will be randomly selected to each win a $25 Gift Card from Spirit Halloween.

Trick or Treat Adventure
At some point this month we will be handing out treats to our loyal members. When you find the hidden candy bag below and click on it, you'll get a sweet treat in your Sunshine Rewards account. Only 200 are available, so they will be first come, first served!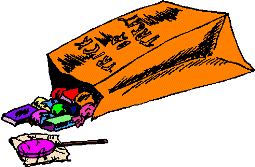 Five Halloween Party Games….five chances to win this Halloween from Sunshine Rewards. Must be 18 years or older for all contests. Void where prohibited by law.
One Response to "Sunshine Rewards Halloween Party 2013"
I'm so ready for the party