Sunshine Rewards 2013 Holiday Giveaway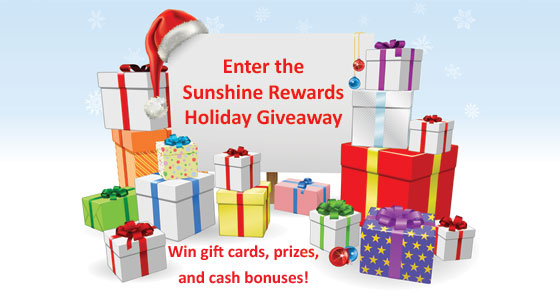 This contest has ended! Here is a list of the winners:
$100 Disney Gift Card, 1623
$50 Amazon Gift Card (3) (Amazon) 9519, 19526, 25221
Wine Club Gift (California Wine Club) 18532
David's Cookies Gift (David's Cookies) 538
$50 ReUseIt Gift Card (ReUseIt.com) 14995
$50 of Dione Bracelets and Beads (Fire Mountain Gems) 10974
Busy Body Bundle (Marbles the Brain Store) 16574
Flirty Apron and Mitt (Flirty Aprons) 15637
$50 Magic Cabin Gift Certificate (Magic Cabin) 21520
Slice Gift Package (Slice Products) 1312
$10 Starbucks Gift Cards (5) (Starbucks Store) 4187, 4868, 4640, 29043, 6082
$15 Disney Gift Cards (3) 23040, 681, 7033
---
Simply click below to register for the Sunshine Rewards Holiday Giveaway. Once you do, you will receive one entry into the contest. Additional entries can be earned for the following activities completed between November 13 and December 24, 2013:
1) Each Greenfield/Toluna and GiveUsYourTwoCents Daily Survey you complete,
2) Each AMP/MyThoughtCounts Survey you complete,
3) Each SurveyHead Survey you complete,
4) Each SSI Survey (1 and 2) you complete,
5) Each MyView you complete,
6) Each Samplicious you complete,
7) Each GlobalTestMarket you complete,
8) Each Live Sample Survey you complete,
9) Each Ampario you complete,
10) Each Research for Good Daily Survey you complete,
11) Every shopping purchase you make through Sunshine Rewards.
From all of the entries that we receive, we will randomly choose a winner for each prize listed on or about January 4, 2014. The winners will be notified via the email address on their Sunshine Rewards account and will have 10 days to claim their prize. What are the prizes so far?
There's more! You can earn a bonus from Sunshine Rewards for your total entries during the contest period. One bonus per member.
Earn 100 entries into the contest: Get an automatic $10 bonus
Earn 150 entries into the contest: Get an automatic $15 bonus
Earn 300 entries into the contest: Get an automatic $30 bonus
Your entries will be updated every 24 hours. Check back tomorrow to see your updated totals.