Dec 06 2013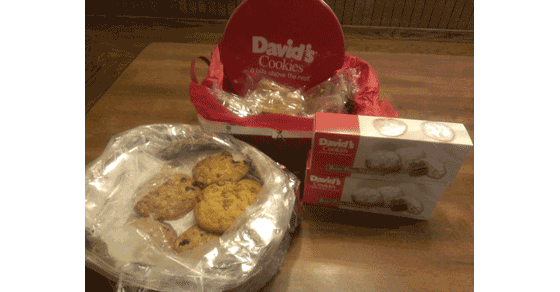 I send a lot of food gifts to friends and family throughout the year. But I always wonder if what I am sending is going to 1) look like what it shows on the website, and 2) actually taste good. To help our members, we like to get our hands on the actual products and show you just what you are sending.
This week we received a gift basket from David's Cookies. David's has long been popular with our members for many reasons. They are a great brand name with high quality products and good deals.
As you can seen in the video below, the Sunshine Daughters showed just why they love David's Cookies. Well...one of them did. The other just ate as many as she c0uld while we were filming because she knew I couldn't stop her.
The gift that they reviewed was the Holiday Drummer Deluxe, which contains a serving tray, 10 brownies, a 2 lb. tin of cookies, and 12 oz of Pecan Meltaways. The picture on the website actually doesn't even do it justice. We just kept pulling more and more goodies out of that basket! Everyone found something in it that they loved--I gravitated to the brownies, my husband ate the chocolate chip and peanut butter cookies, and the kids tried a bit of everything.
The thing I love most about the cookies at David's Cookies is that they are just like homemade. They are actually Fresh Baked Cookies like you would bake yourself. They have your standard chocolate chip, peanut butter, etc. but they also have some really unique flavors like Cherry with White Chocolate chips, and Smores. The tins are nice and sturdy for shipping the cookies and then using over and over again for years to come.
Cookie tins start at only $24.95, so it makes an affordable gift for anyone on your list. Choose a Cookie of the Month Club and send a gift that your recipient can look forward to for months to come.
Don't forget to check Sunshine Rewards for David's Cookies coupons and cash back. Right now we have  15% off coupon, a free shipping code, and increased cash back for the holidays. Plus, when you enter the Sunshine Rewards Holiday Giveaway, you will have a chance at winning some David's Cookies yourself.
Check out the video and then visit David's Cookies to see who on your list this year deserves them!