Oct 03 2012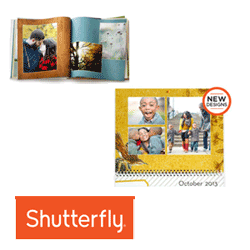 Whether spooky or silly, Halloween always brings back memories of years gone by. Sometimes we are lucky enough to snap a picture to go along with those memories and other times we have to rely on the pictures in our heads. This Halloween, Sunshine Rewards has teamed up with Shutterfly to present the Shutterfly Halloween Memories Contest.
Simply leave a comment below about your favorite Halloween memory that you either have a picture of or wish you had a picture of. It can be about you, your kids, or anyone you know. (Be sure to use the Rafflecopter to confirm your entry) We'll randomly select one winner to receive a prize pack from Shutterfly of a custom photobook and calendar.
Plus, you'll earn extra entries when you share the contest with your friends. Contest ends October 31, 2012. See below for full details and visit Shutterfly for all of your custom photo printing gifts.
18 Responses to "Shutterfly Halloween Memories Contest"
#

paula

on 03 Oct 2012 at 11:02 am

I remember taking my daughter trick or treating for 1st time

#

Mandy H.

on 03 Oct 2012 at 11:13 am

My daughter's first Halloween as a bumblebee!! She held on to her pumpkin treat bag for dear life and had a great time!

#

Kayla

on 03 Oct 2012 at 11:22 am

The first Halloween after I moved to the midwest from California, there was a blizzard late in October and we had to venture through so much snow to get our neighbor's houses. It was very memorable for someone who hadn't grown up with snow before then!

#

Roxana Martinez

on 03 Oct 2012 at 12:31 pm

My favorite Halloween memory is when my friends and I dressed up in 2009 and went to a karaoke studio I didn't know what to dress up as so my boyfriend and I went as two puzzle pieces that fit perfectly together. I still can't believe he agreed to it!

I remeber taking eachone of my chidren out for halloween. The oldest though it was fun and emjoyd getting th cany. But the youngest, he did not want any part of it. He was horrified by everyone in costume that he cried the whole time.

#

jelly belly

on 03 Oct 2012 at 2:53 pm

My favorite halloween memory is the year my mom made the best costume ever for my gymnastic's halloween competition (a full body suit to look like a girl doing a handstand) and I won first place!

#

Heather

on 03 Oct 2012 at 3:13 pm

One of my favorite Halloweens was when our whole family dressed up as Skywalkers! Dh was Anakin, I was Padme and the kids were Luke and Leah. My mom is an amazing seamstress and made all the costumes! It was great fun and so many people loved our theming.
I also loved 2010 when we were at WDW and experienced the MNSSHP! We went yesterday to DLR and saw all the decorations and costumes of those participating, though we did not stay for the event. We love costumes-just not gruesome ones and Disney does THAT aspect best.

#

Cynthia Palmatier

on 03 Oct 2012 at 4:59 pm

Just last year all my daughters family dressed up as Smurf characters! Melissa made all the costumes and they were adorable, Smurfette, Gargamel, Papa Smurf, and the Smurf.

#

melanie

on 03 Oct 2012 at 10:30 pm

My 2 girls trick or treating for their first time, my second was 2 weeks old and my first was 4

#

Rachel

on 03 Oct 2012 at 10:50 pm

My favorite Halloween memory is taking my little sister trick or treating in the local mall. She wanted to dress up as Hannah Montana & insisted that I do the same, wig and all! No pictures but I sure wish we had one, she is 12 now and doesn't think big sis is quite as cool as she used to!

#

Julie

on 05 Oct 2012 at 11:19 am

Taking my children trick-or-treating for the first time. One was Piglet and the other a horse.

#

Barbara Apple

on 05 Oct 2012 at 1:16 pm

My favorite memory would be trick or treating thru Disney World last year. I loved it and think of it often!

#

Kim H

on 05 Oct 2012 at 3:35 pm

When my one son was young he went out for his 2nd or 3rd time trick or treating with his dad. They weren't gone very long when they showed up at the front door. My son wanted to go to just a couple of houses and then get home so HE could pass out the candy to the kids who came to the door!

#

Carol K

on 05 Oct 2012 at 7:21 pm

One Halloween – when my son was 10 months old and my daughter was 2 – we dressed them up as Winnie the Pooh (Nicole) and the "honey pot" (Randy).
We got so many comments on how cute they looked. I think that was the only year they "coordinated".

#

Heather M

on 05 Oct 2012 at 8:01 pm

When my son was 20 months old and he was the cutest little Cowardly Lion. I was several moths pregnant and my son wouldn't walk. I had to carry him the whole way. We were quite the sight!

#

Tara

on 08 Oct 2012 at 4:11 pm

I remember trick or treating with my brother.

#

MICHELLE M.

on 10 Oct 2012 at 10:17 am

One of my favorite memories is from last year. It was the first year that we took our two daughters haunted house hopping…we hit six haunted houses in one night!

#

tina b

on 24 Oct 2012 at 2:21 pm

My favorite memory is from last year…it was my sons first Halloween. Halloween is my favorite holiday and celebrating with my son,gave it a whole new meaning!!!