Jul 21 2015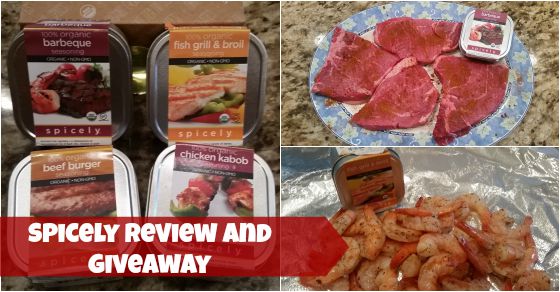 I have to admit that I am kind of a lazy cook. I get into a rut of making the same things over and over. One things that always inspires me to try something different is getting a new spice blend. When Spicely Organics offered to send me a set of their Backyard Barbecue spices to try, I jumped at the chance.
The Backyard Barbecue Gift Set comes with 4 different spice combinations: Barbeque, Fish Grill & Broil, Beef Burger, and Chicken Kabob. I wanted to try a couple of them, so we decided to have a grilled Surf & Turf dinner. It could not have been easier! I chose some decent quality steaks at the store and we used a couple of tablespoons of the Barbecue seasoning on them before grilling them. I bought some large sized shrimp and tossed them with the Fish Grill & Broil seasoning before wrapping them in foil and throwing them on the grill for about 10 minutes.
The family loved the whole meal! Most preferred the steak seasoning, but I think that's just because they like steak better in general. I felt like the seasoning on the shrimp was the easiest way that I have ever prepared shrimp. I didn't even marinate them for more than about 5 minutes and the flavor was unbelievable. I should also note that the containers contain a LOT of the spice mixtures, so you will get a lot of use out of them for the price.
In addition to the spice kits (which make GREAT gifts), you will find a whole selection of organic spices and teas at Spicely. Even though I tend to stick with a lot of basic spices, I really appreciate good cinnamon, peppercorns, and salts. Plus, get free shipping on every order!
Giveaway!
How would you like to check out Spicely and get a chance to win your own Backyard Barbecue Spice set? Simply visit Spicely Organics and then follow the directions in the Rafflecopter below. You'll get extra entries when you participate by sharing your favorite way to use spices!
14 Responses to "Spicely Review and Giveaway"