Jul 14 2011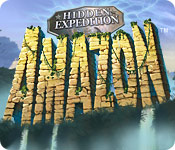 I'm addicted to Big Fish Games. There…I admitted it. They have just the kind of games that appeal to me. The games are more about using your mind to solve puzzles than memorizing 6 different buttons to push at the same time that you move your joystick and pull a trigger.
For the next 48 hours you can download one of their best selling adventure games, Hidden Expedition Amazon, for only $1.99. The CD of this game usually sells on Amazon for $11.88 PLUS shipping. You can download the game from Big Fish immediately and play it for less than 2 bucks. You can even try their games for free before you commit to buying them.
If you would like to get a look at the game before you download it, check out the Amazon video below. This price ends on July 16 so take advantage quickly! Be sure to use coupon code hidden199.
Comments Off on Hidden Expedition Amazon Game Only $1.99 Today