Dec 05 2012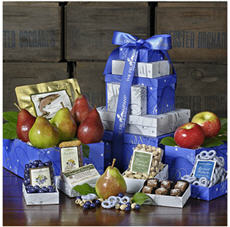 Do you ever wonder when you order a gift online if it is actually going to look like what you saw on the website? I know that I do. When I send a gift I want to be sure that I am getting what I pay for and that the recipient will love it.
That's one of the reasons that I love ordering from The Fruit Company. I have sent a number of gifts from them and have always gotten glowing feedback on the quality and presentation of the gifts. This week I was lucky enough to receive the Grand Holiday Tower from them (pictured above) so that I could show you exactly what it looks like. Since it was Jillian's birthday, I let her help me out with the review and shared some of the tasty treats with her (except the chocolate salted caramels).
As you can see in the video below, what I got was EXACTLY what was pictured on the website. The tower was bundled with the beautiful ribbons and blue and silver packaging. The boxes were completely filled with fruit and other snacks. That is the case with everything that The Fruit Company sells.
Their website makes it incredibly easy to shop by occasion or price (we all have budgets, right? The tower that I received is usually $79.95 but is on sale for $59.95 plus free shipping! You'll even find towers as low as $29.95 right now including shipping.
And I couldn't do a post about them without mentioning the fruit. They sell everything from fresh fruit to dried fruit to covered fruit. I love it all. The fresh fruit is just flawless. Juicy pears and crisp apples. The covered fruit is a chocolate lover's dream (and it's healthy because it's fruit, right?).
Did I mention that we are giving away one of these gorgeous towers??
Check out the video below and then enter on the Rafflecopter form for your chance at the gift tower. And don't forget to check Sunshine Rewards for the latest Fruit Company coupons, deals and cash back!
[youtube1]DRX7KmA8xgE[/youtube1]
47 Responses to "The Fruit Company Review and Giveaway"
#

ASHLEY L

on 12 Dec 2012 at 7:58 pm

Beautiful! Would love to win (=

#

Michelle

on 12 Dec 2012 at 12:29 pm

Give it to one of my parents or in-laws.

#

Kim Henrichs

on 12 Dec 2012 at 10:45 am

share it with coworkers!

#

Linda l

on 11 Dec 2012 at 11:43 pm

Would be great at our holiday dinner

#

Linda Anderson

on 11 Dec 2012 at 3:46 pm

nice- thanks for the chance

#

Beth

on 11 Dec 2012 at 1:07 pm

oooohhhh, my girls would LOVE this!!

#

Wendy

on 11 Dec 2012 at 12:45 pm

This is a great gift idea

#

Katie

on 11 Dec 2012 at 12:43 pm

What a nice looking gift!

#

Polly Hall

on 11 Dec 2012 at 12:21 pm

what a great give away

#

colleen mc

on 11 Dec 2012 at 12:04 pm

Very nice! I'd give it to a friend who is down this holiday

#

Janell

on 11 Dec 2012 at 11:57 am

I would give it to my dad who lives in an assisted living center and he could share it with his friends there!

#

Lori C.

on 11 Dec 2012 at 11:53 am

I would give it to my mother & father-in-law.

#

Sammie M

on 11 Dec 2012 at 11:49 am

Looks great!

#

Summer brownII

on 11 Dec 2012 at 11:45 am

I would give it to my mother.

I'd share with the fam and our friends.

#

jayson d

on 09 Dec 2012 at 1:43 pm

I would eat it

#

angela s.

on 08 Dec 2012 at 2:01 am

yum looks delicious and its pretty. would share with my family if i won

#

ericka coello

on 08 Dec 2012 at 12:13 am

I'll share it with my family

#

Carol Kinman

on 07 Dec 2012 at 9:51 pm

LOVE THIS – THIS IS SO PRETTY!

#

Cindy Dawkins

on 07 Dec 2012 at 1:30 pm

I would share with my family – when we gather Christmas day.

#

Selene M.

on 07 Dec 2012 at 11:57 am

I'd share it with our family at our holiday gathering,

#

Alex H

on 07 Dec 2012 at 11:35 am

Sweet! Fingers crossed!

#

JenniferN

on 07 Dec 2012 at 11:13 am

Looks yummy!

#

ryan conklin

on 07 Dec 2012 at 10:41 am

I'll give it to my mom!

I would bring it to my brother and sister-in-law's

#

Mike

on 06 Dec 2012 at 9:35 am

What a great Christmas gift.

#

Amy Engelman

on 06 Dec 2012 at 2:51 am

I would gift it to either my mom or my sister. Thanks!

We love fruit! Can't wait for my family to enjoy such a great treat if I win.

#

Darlene

on 06 Dec 2012 at 12:07 am

Very nice!!!

#

russell

on 05 Dec 2012 at 11:36 pm

Hoping for a little luck so I can give this to my Mom for Christmas!

#

Pat

on 05 Dec 2012 at 8:09 pm

It would be under the tree as a gift to the family. We would no doubt enjoy it all afternoon on Christmas day!

#

Rose

on 05 Dec 2012 at 7:06 pm

this would be a wonderful gift for those who have everything!!

#

Jessica

on 05 Dec 2012 at 6:26 pm

Those pears look delicious!!!! And now I'm dying to try the blueberries ๐Ÿ™'

#

Carla

on 05 Dec 2012 at 6:18 pm

This would be the perfect gift for my parents. They don't really need anything and this would be well received!

#

Kayla

on 05 Dec 2012 at 5:39 pm

Seems like a great gift for the person who has everything! Plus, it's healthy and whether giving or receiving I wouldn't feel bad about the calorie count of the gift ๐Ÿ˜‰

#

Pam

on 05 Dec 2012 at 5:20 pm

We've been invited to spend Christmas with my son's in-laws and I would bring this as a hostess gift, it would definitely make a statement!!! ๐Ÿ™'

#

Ron

on 05 Dec 2012 at 4:46 pm

What a great and fancy way to enjoy fruit. ๐Ÿ™'

#

Mandi Parrotte

on 05 Dec 2012 at 4:44 pm

I would share with my family

#

Kim H

on 05 Dec 2012 at 4:32 pm

I'd give it to my pastor and his wife – nice gift! I think I may also order one for some family members in Oklahoma! Thanks for sharing the video. ๐Ÿ™'

#

pam w

on 05 Dec 2012 at 4:26 pm

sounds yummy!

#

Laura P.

on 05 Dec 2012 at 4:15 pm

Probably bring it to my sister's house for the holidays.

#

Debbie

on 05 Dec 2012 at 4:13 pm

I love the presentation! What a great gift!

#

Joni

on 05 Dec 2012 at 4:13 pm

This looks fantastic!

#

Mandy Hillman

on 05 Dec 2012 at 4:09 pm

If I was lucky enough to win this, I would give it to my Poppy so he could enjoy all of the goodies! ๐Ÿ™'

#

Pat Clark

on 05 Dec 2012 at 4:08 pm

Your gift sets are very attractive.

#

BILL H

on 05 Dec 2012 at 4:07 pm

put it on the table for all to enjoy

#

Jennifer

on 05 Dec 2012 at 4:05 pm

What a sweet treat to receive at Christmas ๐Ÿ™'