Nov 04 2013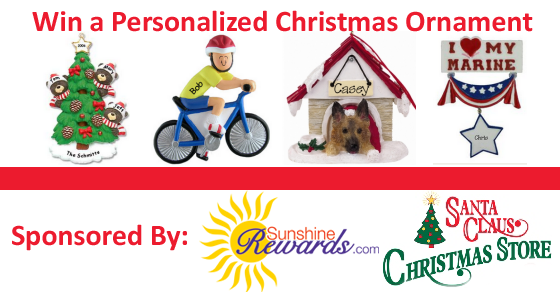 Last month I was lucky enough to actually visit the brick and mortar store for one of our newest merchants, Santa Claus Christmas Store. Walking into the store I was instantly transported into the holiday season. I looked through all of their trees, stockings, and collectibles. But the area that I loved the most was the personalized ornament section.
They had ornaments for everything from sports teams to family trees to traditional snowmen. You could get your first name, your family name, or even your dog's name personalized on the ornaments. I even found one for myself for this year of a girl with braces. Pretty much every milestone, hobby, and interest were represented.
I'm excited today to have you take a look at the Santa Claus Christmas Store for yourself and pick out an ornament. Follow the instructions below and you may just win the ornament that you choose. So choose wisely!
Instructions: Visit the Personalized Ornaments section of Santa Claus Christmas Store. Pick any ornament that you would choose and how you would have it personalized. Leave a comment below telling us. We'll randomly select one of the comments and they will win that ornament.
While you are looking, remember that you can get free shipping when you order 4 personalized ornaments or if you spend over $40 on anything. Plus, you can earn increased cash back on your purchase through Sunshine Rewards.
Fine print: Must be 18 or older and a resident of the U.S. to enter. Contest will end at midnight Eastern on November 15, 2013.
27 Responses to "Win a Personalized Ornament from Santa Claus Christmas Store"
#

Cindy

on 07 Nov 2013 at 10:13 pm

The Arts and Crafts one !! With….. Cindy

#

Pat Verner

on 05 Nov 2013 at 11:39 pm

We would love the University of North Carolina Old Well ball as our UNC glass ball got broken last year!

#

Leanne Ketchum

on 05 Nov 2013 at 8:59 pm

I would get the Teddy Bear Buddies ornament. I would put my name and the date(12/25/13) on it

I would choose the

Purple Cheer Megaphone Personalized Ornament

with Cameron on it.

#

Linda Farmer

on 05 Nov 2013 at 5:19 pm

I would choose the blonde female tennis player with Sydney on the skirt.

#

Denise Bigley

on 05 Nov 2013 at 9:28 am

I would like the Petey Penquin Family of 5 ornament and put me and my husband and 3 kids names on it

#

Camille MacArthur

on 05 Nov 2013 at 8:17 am

I would choose the I love my Marine, it would be nice as I have 2 sons currently serving in the Marines, I would have to try to put both of their names, William and Matthew! semper fi

#

Jenn

on 05 Nov 2013 at 7:33 am

I'd pick the single parent snowman and have it personalized with my and my daughters first names. (I might also have to pick out a cat ornament for each of the fur babies!)

#

Kelly Reynolds

on 04 Nov 2013 at 11:33 pm

Petey Penguin Family of 3

Mom, Dad and Trent

#

russell

on 04 Nov 2013 at 11:27 pm

I think I would have to go for green Beatles Apple ornament, and personalizeit with my own name

#

Anna Medina

on 04 Nov 2013 at 10:23 pm

Building snowmen family of 4 <3 !! :)!!!

#

Jerica Morningstar

on 04 Nov 2013 at 10:11 pm

Bears in a Tree family of 5

We need 5 because we have a new addition to the family this year!!

Starting from top:
Daddy
Mommy
Sky
Sean
Suryn

The Morningstars

#

Chris

on 04 Nov 2013 at 9:50 pm

I love the camping ones. I would pick Boy Scouts Camp Ground, Year 2013, Name Declan

#

Marsha

on 04 Nov 2013 at 8:54 pm

I think the monogram ones are darling. I'd pick the Hot pink with initial W personalized

#

Andrea Fuller

on 04 Nov 2013 at 8:23 pm

What a fun contest! We have a family of 4 and we go by Teddy Bears, so we would love the bears in stockings ornament. These ornaments are really adorable!

#

Debbie

on 04 Nov 2013 at 8:15 pm

We would love the ornament that is the Snowman Family Of 4 Personalized Ornament -A family of four smiling snow-people. Just <3 snowmen. This would make a beautiful addition to our collection. Thanks so much!!

#

JenniferN

on 04 Nov 2013 at 7:37 pm

I would get the pregnant brunette couple for one of my good friends. She's expecting for the first time! Due in January 🙂 Perfect Christmas gift for her!

#

Pam

on 04 Nov 2013 at 7:10 pm

I would have to pick the "Love Grows Personalized Ornament" and I would put my son and daughter-in-law's names on it with the date of 2014 because that is when we are expecting our first grandchild!!!! ♥

#

karn

on 04 Nov 2013 at 6:40 pm

I would choose the Beach Family of 3 Personalized Ornament
Just the sand, the sea, and the sunny sky for this beach family. Personalize this ornament for your sun-loving family members to commemorate a special vacation.
Price: $11.95

And have it personalized with my families names.

#

rhona pereira

on 04 Nov 2013 at 6:33 pm

My grandson would dearly love the ARMY MALE PERSONALIZED ORNAMENT with the name BRIAN on it

Gray Cat Ornament with Rory

#

Sarah Hawley

on 04 Nov 2013 at 4:47 pm

Thanks for the contest!
I would choose the NFL Halfback New England Patriots ornament and customize with "Sewall" as the name on the jersey.

#

Mandy Hillman

on 04 Nov 2013 at 4:03 pm

I would love to get my daughter the Ballerina Brunette ornament. I would have it personalized with her name, Amelia.

#

Amy Geiger

on 04 Nov 2013 at 3:43 pm

Brunette Wedding Couple Personalized Ornament
The Geigers
10/5/13

We got married one month ago and are so excited about our first Christmas together as newlyweds! This would be a perfect ornament for our tree 🙂

#

cathy

on 04 Nov 2013 at 3:35 pm

would love a new Bengals ornament for our family tree 🙂

#

kim holt

on 04 Nov 2013 at 3:29 pm

I would choose the Dallas Cowboys Glass Football Player Ornament. My husband is a huge fan and he gets a new Cowboys ornament every year for his collection. I'd have "HOLT" personalized on the back.

#

Jessica Owen

on 04 Nov 2013 at 3:26 pm

Black Bear Family of 4 Ornament,

In place of 'Taylor' :Mommy

In place of 'Mom' :Grandma

In place of 'Dad' : Grandpa

In place of 'The Smith Family' : The Owen Family

In place of 'Pat': Zach

Enter Date: 2013