Dec 06 2013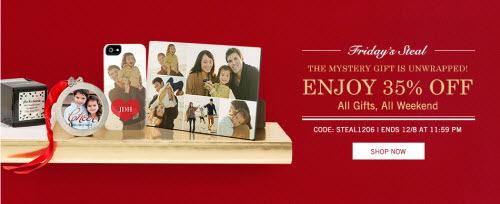 Tiny Prints has been running some really spectacular sales, and this should be one of the busiest weekends for them of the whole year. That means many of you are looking for deals! Thankfully, I have found them.
First, save 35% on all personalized gifts this weekend with code STEAL1206. That includes ornaments, iPad Cases, Mugs, Decor, Personalized Notepads, Self-Inking Stamps, and more. If you are looking for a gift for someone that has everything (like grandparents) or someone you don't know well (like teachers), consider the notepads or the stamps. And this deal is as good as it will get to receive them before Christmas.
Second, if you are still ordering holiday cards, use code SW1208 to save 25% on everything else.
Lastly, get free shipping on orders of $49+ with code HOLFS13, and it stacks with the other coupons!
Did I mention increased cash back of 8%?
Comments Off on 35% Off All Gifts at Tiny Prints This Weekend