Feb 19 2014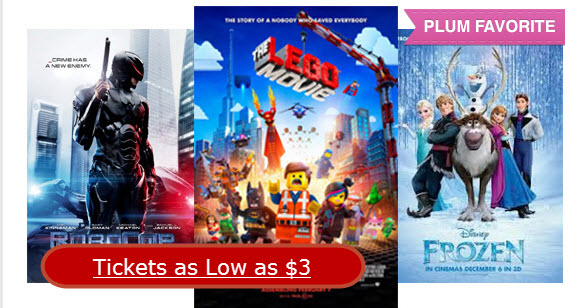 Plum District is running a deal for DealTickets, which itself is a site where you can save money on movie tickets. This one takes a little bit of explaining!
First you get $20 in DealFlicks certificates for $9 from Plum District (and 1% back from SR). You can then use the $20 on DealFlicks to buy the movie tickets of your choice, and DealFlicks marks down tickets already from 10%-60%.
Some of the tickets available at the cinema closest to me include The Lego Movie, The Monuments Men, RoboCop, and Vampire Academy.
The only caveat is that you need to check with DealFlicks first to see which of your local cinemas is eligible. For me, the closest is about 20 miles away, which isn't very convenient. But you might have one right next door.
Bottom line–if you have a theater in your area that does work with DealFlicks, this is an awesome deal from Plum District!
Comments Off on Movie Tickets Under $2