Oct 01 2014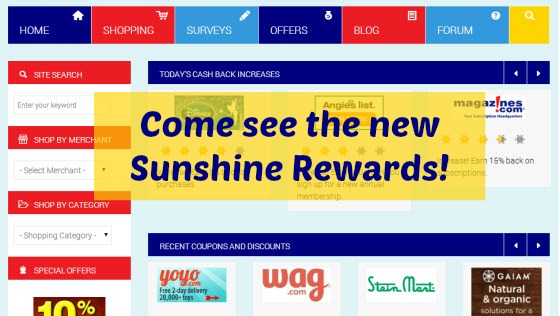 After almost 9 years in business, Sunshine Rewards has finally gotten a major new design! Only once before have we ever made over the site, and it was not by this much. We've been talking to merchants, members, and internet marketers for almost a year to come up with something that fits all of our needs and are finally pleased to release it.
What's new?
First and foremost, the whole site theme has gotten an upgrade. You'll still find the CONTENT the same, but the way you get to it will be a bit snazzier.
The navigation menu is completely new and although it has the exact same links in it, we've grouped them together to be more intuitive.
Key information like login and social media have been moved to the top of the page.
Mobile responsive! This is the biggest one. You should now be able to use Sunshine Rewards more easily on your mobile devices including phone, tablet, and iPad.
As you can see from comparing the blog header to the picture above, the site looks MUCH different but functionally it is the same. We know there will be a few bugs to work out, and we anticipate finishing final integration of the blog and forum in the next month. But in the meantime we are excited to be moving Sunshine Rewards forward in a way that we think will keep us in business for years to come.
So head to the homepage, www.sunshinerewards.com, and take it for a spin!
Tricia
7 Responses to "Introducing the New Sunshine Rewards!"