Sep 30 2015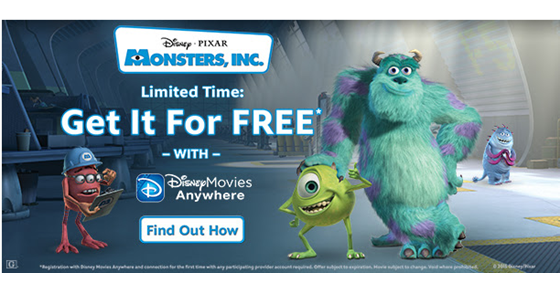 Have you set up your Disney Movies Anywhere account? Getting a free copy of Monsters, Inc is as easy as connecting your Disney Movies Anywhere account to your Amazon Video Library account. Amazon will walk you right through the steps. I think mine took about 2 minutes? Now in addition to The Incredibles that I got free for signing up plus the movies that I have purchased and added the codes to my account since then, I now have Monsters, Inc, too!
If you haven't already done this, I would suggest jumping on it now in case you have any problems. The offer ends on Monday.
One Response to "Get Disney's Monsters, Inc Free from Amazon"
One of the hardest things about entrepreneurship is that you
will always be faced with criticism and rejection of your ideas.
Many of the different aspects of internet marketing services are very
easy to understand and a good place to start is with a regular newsletter.
Internet marketing and making money from the internet is way beyond a scam.