Dec 07 2016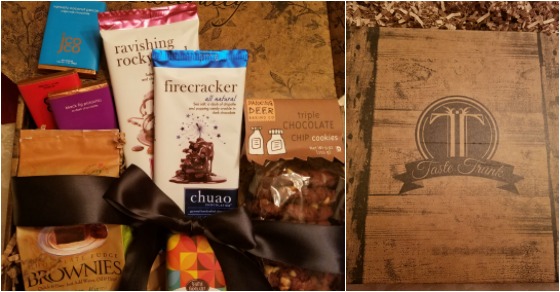 When Taste Trunk asked me if I would like to review one of their gift boxes, I knew exactly which one I wanted: Death by Chocolate. Taste Trunk is new to Sunshine Rewards this holiday season, and I was eager to see what they had to offer.
Taste Trunk offers both single month gifts as well as subscription services. They come in different themes such as: The Gourmet, The Healthy Chef, The BBQ, The Sweet Subscription, Beer and Bourbon, Man's Candy, Sunday Brunch. etc. Prices start around $40. You can also create a Custom Trunk where you pick specific items and then they will pack them in an appropriately sized trunk.
Some of the trunks have "ready to eat" items in them like cookies, candy, and popcorn. Others are geared more toward the gourmet types, like pancake mix, scone mix, glazes, etc. I recognized some of the brand names of the items in the boxes like Dancing Deer Baking Company cookies and Terrapin Ridge sauces. They are definitely higher-end products than what you find in the grocery stores.
Let's get to my box so you can see what I got!
The box came packaged beautifully. As the name suggests, the box is made to look like an old-fashioned trunk with goodies inside. When I opend the box, there was a big bow around the items as well as a card and recipes. The treats inside were pretty much exactly as shown on their website. Take a look at the comparison below of what is on their site (left) to what I received (right).
Just judging by what I received compared to what the website shows, I think it is safe to say that all of the boxes are going to look almost exactly as pictured on the site. That is not always the case with gift baskets. One of the reasons I love to read reviews of gifts like this is because I want to know that I am not sending someone something like looks cheap when they receive it and I never find out about it. Except for the fact that their photography is much better than mine, the trunk I received is exactly what I would have expected based on their site–both in terms of size of the items and packaging.
My box was a combination of the gourmet and ready to eat items. While it contained cookies and various gourmet candy bars, there was also a mix for Sticky Fingers Bakeries Chocolate Fudge Brownies (just add water, oil and eggs!). Given that is about as gourmet as I get, it is perfect for me. Treats to eat now plus something to make in a few weeks once all of the candy bars are gone. (Few weeks? Who am I kidding? Probably next week!)
Would I order again for myself? Actually, based on the positive experience I had, my husband ordered Christmas gifts for all of his employees from them (I hope they don't read my blog!). He went with a totally different theme (I won't spoil it), but it's perfect for men who are hard to shop for.
Now that I have taken all of the pictures I need to take, I'm going to dig into the chocolate. Okay, I may have broken off pieces of some of the candy bars already and hid that part in the pictures.
I almost forgot! They are running a 30% off deal right now on their subscriptions. Plus, you can get cash back from Sunshine Rewards. So if you are looking for a gift idea, now is the time!
Comments Off on Taste Trunk Review and Deals