Apr 27 2017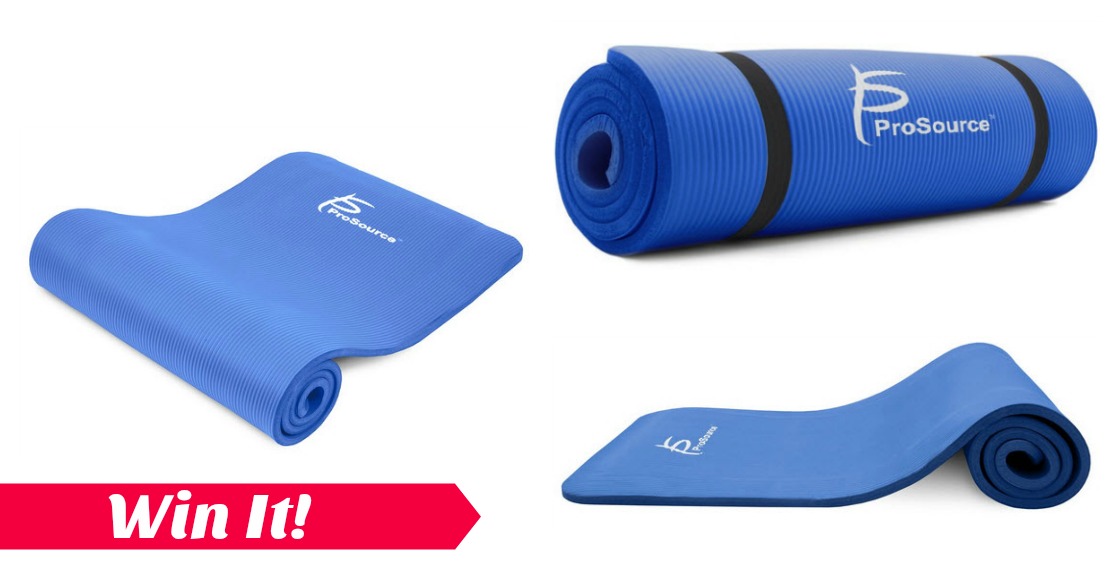 We are excited to be partnering with ProSource for a new contest! We recently introduced Sunshine Rewards members to ProSource and have been receiving great feedback on their products and prices. Among the best sellers have been their branded yoga mats, so we want to spread the word about them even more.
While ProSource has a HUGE variety of mats, rollers, resistance bands, and other fitness tools, we chose the Extra Thick Yoga and Pilates Mat 1/2 inch to give away because it is low maintenance, useful for many different activities, and has a perfect 5 star rating. Here's a description from their site:
The extra thick yoga and Pilates mat uses high density foam for 1/2-inch thickness, great for use on hard floors. The extra thick cushioning provides support for sensitive joints, compared to other, thinner mats, which sit closer to the floor. It's colorful, non-slip surface allows for greater stability so you can flow between poses more easily, and high quality material ensures durability. It even comes with a free yoga mat sling so you can easily and comfortably transport it to wherever you may want to get in a session.
We've compared prices and quality on mats across many different sites (including Amazon) and the mats at ProSource are among the best that we have found under any comparison. Because their primary focus is fitness, their products are designed for durability.
How can you win it? Entering the giveaway is easy. Simply use the Rafflecopter below. Although you don't have to be a Sunshine Rewards member to enter, you do get a bonus entry! Don't forget to check out ProSource for terrific prices on a broad range of exercise products.You'll get a 30-day money back guarantee plus free shipping on orders over $39. Plus cash back from Sunshine Rewards!
18 Responses to "Yoga Mat Giveaway from ProSource"
#

Trisha McKee

on 08 May 2017 at 11:50 pm

I do a lot of walking. I'd love to start yoga.

#

Scott Winchester

on 08 May 2017 at 11:37 pm

I could really use one of these.so I could start getting into better shape before its too late.

Well, I just had major surgery at the end of March so, I have been doing slow walks every day to try and build myself back up. I am going stir crazy! Want to work back into yoga ~ I have nerve damage in my groin area (both sides) from the surgery so, slow and steady wins the race right now.

#

Kayla Klontz

on 08 May 2017 at 11:10 pm

I stay fit by drinking lots of water, walking a jogging daily and swimming in the summertime, I also do stretches every morning.

#

Bea Alexandra

on 08 May 2017 at 7:10 pm

I have been doing DDP Yoga and I walk about 10 miles a week.

#

BRYAN E.

on 08 May 2017 at 3:25 pm

I stay fit by swimming, running, or walking 4-5x each week; also 2-3x a week I do push-ups, sit-ups, burpees, and lift light weights.

#

Laurie Emerson

on 07 May 2017 at 10:24 pm

I stay fit by eating healthy, drinking plenty of water and running each day.

#

Richard Hicks

on 07 May 2017 at 7:54 pm

I stay fit by mostly by lifing weights and cycling.

#

Robin

on 07 May 2017 at 1:00 pm

I walk about a mile and half every weekday.

I stay fit by going to the gym, going to hot yoga, and walking my dog Hunter.

#

Jessica

on 03 May 2017 at 10:50 am

Love doing yoga! My husband just started as well, and he could use his own mat…he's always using mine, ha!!! Would love to try ProSource's mat!

#

Kim

on 02 May 2017 at 7:27 pm

I walk about 3 miles 4-5 days a week with my hubby. I do a few floor exercises here and there.

#

cjjmesser

on 02 May 2017 at 7:21 pm

I like working out to the Fitness Marshall videos on Youtube.

#

Debbi Wellenstein

on 02 May 2017 at 5:47 pm

I'm not terribly fit, but I do like to walk.

#

Ashley Wade

on 02 May 2017 at 3:03 pm

I play Wii Fit U to stay fit. This mat will be perfect for doing Yoga and other exercises when playing the Wii Fit U so that I'm not having to do it on the hard wood floor lol.

#

Kalyn U

on 02 May 2017 at 11:54 am

I'm 7.5 months pregnant and Pregnancy Yoga is how I stay fit along with daily walks around the block!

#

Kimmy Ripley

on 01 May 2017 at 4:15 pm

I get fit by walking and running with my sweet rescue dog Stormy!

#

Kimberly Sloane

on 27 Apr 2017 at 11:45 am

Currently I am not staying very fit. However, 2 more weeks and life will settle down and I will be back to walking/running and yoga.