Sep 12 2017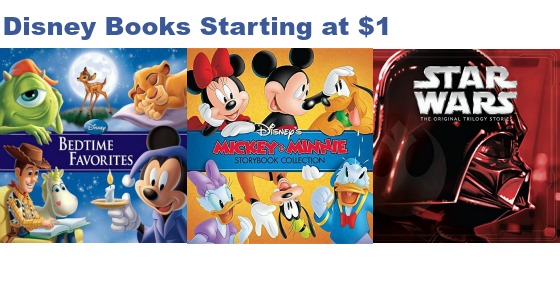 Book Outlet is quickly becoming one of my favorite places to buy books. I'll often find books I want for 50% off or more. Right now they are running a sale on Disney books where you can save up to 65% on list prices.
I wanted to see for myself how these prices compare to other places to see if the deals are really that good….and they are! I compared prices on 10 of the items to other sellers such as Amazon or Barnes and Noble. Every one of the items was cheaper…some of them by as much as half. Plus, you get free shipping on orders of $35 or more. Here are a few that I found that I really liked:
5-Minute Disney Junior Stories ($5.89 versus $11.96 on Amazon)
Disney Bedtime Favorites ($8.99 versus $12.48 on Amazon)
Do You Want a Hug ($4.31 versus $7.92 on Amazon)
Also keep in mind that these are the NEW prices. If you are looking at "scratch and dent" (used), you can save considerably more.
Quantities are limited on all of these (some are down to only 1 copy left) so shop fast!
Plus, get 5% cash back at Book Outlet from Sunshine Rewards.
Comments Off on Save Up to 65% on Disney Books