Nov 30 2022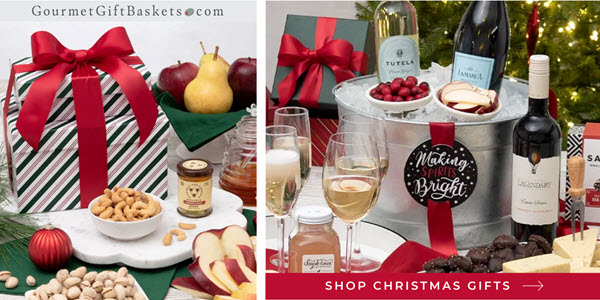 I want to take a minute to spotlight a merchant who has been super supportive of Sunshine Rewards this holiday season–GourmetGiftBaskets.com. Not only did they donate a prize to our Holiday Giveaway, but they have given us a cash back increase AND great coupons!
Right now you can get an increased cash back of 6% on all purchases (excluding single bottles of alcohol and flowers). PLUS, you can use coupon code JOY22 to take $5 off of $50 or $15 off of $100+.
If you hate paying for shipping, we have a special link for 10 products you can get with free shipping!
Looking for gift ideas? You can go to their homepage and put in occasion, price range, and recipient and they will give you suggestions. But here are just a few of my personal favorites:
For Budget Shoppers: Holiday Gift Box ($34.99)
For General Gift Giving: Sweet Treats Holiday Tower ($49.99)
For Chocolate Fans (that's me!): Joy and Cheer Belgian Chocolate Gift Box ($49.99)
For Healthy Eaters: Local Harvest Fruit Gift Box ($59.99)
For Making a BIG impression: Christmas Gift Basket Premium ($99.99)
For Free Shipping: A Taste of Elegance Gift Tower ($59.99)
Like us, GourmetGiftBaskets.com is a family business that excels in customer service. You won't be disappointed if you give them a shot!
Comments Off on GourmetGiftBaskets Deals and Cash Back Increase!