Sep 15 2023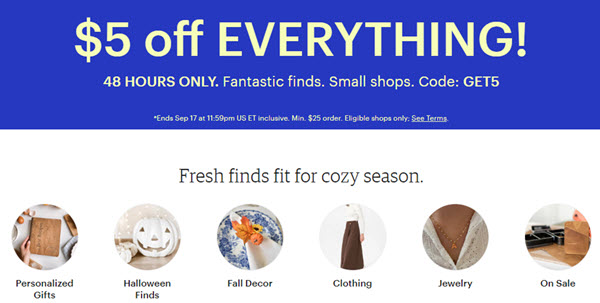 Although we can't give cash back on Etsy, we think this is a big enough deal that you will want to know about it!
For the next 2 days, you can take $5 off everything over $25 at Etsy when you use code GET5. It's rare that they run coupons that apply to almost everything on the site, because the site is made up of individual shop owners that run their own sales.
I have been buying so many things from Etsy lately! All of our Disney Halloween family costumes, Halloween and Christmas ears for our upcoming trips, and magnets for our cruise! Plus, I bought my mom her most recent Mother's Day gift there. It's quickly becoming one of my "go to" places for personalized merchandise.
The only caveat on the deal is that the seller has to be using "Etsy payments." I'm not sure what that entails, but you will know if you try to use the coupon in your cart.
I've already got my eye on some Christmas gifts!
One Response to "Save $5 at Etsy with Code"
gdYComrySsI
Leave a Reply