Nov 15 2023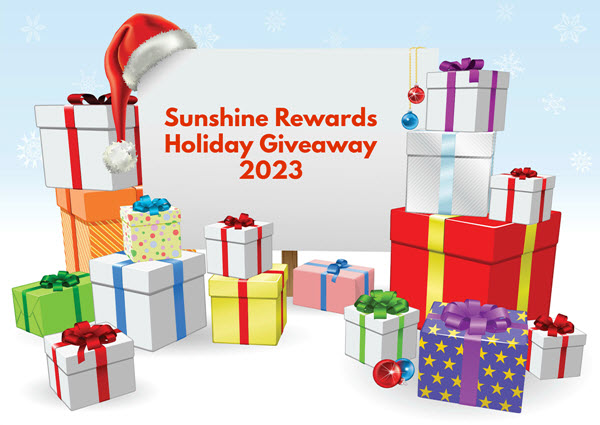 Our biggest contest of the year starts today!
We're kicking things off early this year! How would you like to be entered to win prizes from some of your favorite Sunshine Rewards merchants? Plus, earn increased cash back on different merchants each day.
You can use your entries as raffle tickets to enter to win the various prizes. Tickets must be used by January 2. Be sure you are following our Facebook, Twitter, and Instagram accounts to get FREE BONUS ENTRY CODES.
Here are the prizes so far:
$50 Gift Card (GourmetGiftBaskets.com)
$100 Gift Card (Amazon)
$50 Gift Card (Disney)
$15 Gift Card (Disney) (3 of them)
$10 Gift Card (Starbucks) (4 of them)
Simply visit the page for the Sunshine Rewards Holiday Giveaway and click to enter. Once you enter, you will start earning extra entries for every purchase and survey you complete.
There's more! You can earn a bonus from Sunshine Rewards for your total entries during the contest period. One bonus per member. Earn a bonus of $10, $15, or even $30.
And don't forget about the increased cash back! Each day we continue to feature merchants, and the merchants will change from day to day.
Visit Sunshine Rewards today to get entered and start earning tickets and your bonus!
One Response to "Sunshine Rewards Holiday Giveaway 2023"
IipnRokX
Leave a Reply